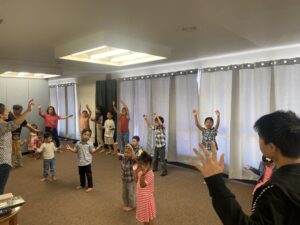 Children's Church at Word of Truth Church
At Word of Truth Church our kids (infant through 11 years old) experience a safe, age-appropriate environment where they learn about Jesus Christ in a creative, exciting and relevant way. We would love to see you and your family visit Word of Truth Children's Church.
Your first visit
Here's what to expect when visiting Word of Truth Childrens Church for the first time: When checking in your child please follow the check in instructions noted below. Upon checking your child in, one of our volunteers will lead your child to their age-appropriate room. Upon checking in for the first time, we will ask for the following personal information (NOTE: We value your privacy and will not share this information with anyone):
Parent/guardian name(s)

Child's name

Phone number

Any special instructions (allergies, special needs) for your children
How check-in works
Before Service: You can check-in your child at our Children's Church facility (located at 50 Puunene Ave. Kahului HI.) When checking your child in, simply approach the front door of the facility. A Teacher will check in your child and your child will be escorted to their age appropriate classroom. Please note: FOR SECURITY PURPOSES, ONLY THE PERSON WHO DROPS OFF YOUR CHILD WILL BE ALLOWED TO PICK UP THAT CHILD AFTER SERVICE UNLESS OTHERWISE ARRANGED AT THE TIME OF CHECKING IN YOUR CHILD – NO EXCEPTIONS. This is to ensure your child's safety, and to ensure that each child is returned only to the person who checked the child in.
After Service: After the service is complete, you will return to the Children's Church. The same teacher who checked your child in will have your child waiting for you and will release your child to the person who checked your child in.
During Service: In the event that we need to contact you during the service, a usher will speak with you directly and advise you of the reason for contacting you, and/or your need to pick up your child should the need arise.
Questions: If you have any questions please feel free to ask any of the Security personnel or one of the teachers located at our Children's Church facility, they will be happy to help you and answer any questions you may have.
Got questions?
If you have further questions concerning our Word of Truth Children's Church services or visiting Word of Truth Church with children, simply click the button below and get in touch with us!