Youth Ministry
Experience The Fun, Excitement, And Powerful Movement Of God In Our Youth Ministry
Youth Ministry At Word Of Truth Church
TURNED UP youth group is our middle school and high school youth ministry specifically for youth ages 12 – 19 years old. We are passionate about raising up a generation that will have a TRUE and vibrant relationship with Jesus Christ and experience His power and love each and every day. While the journey may be hard for Christian youth these days, particularly with all of the trials and temptations facing them in this world we live in, we are fully committed to help every young person to reach both physical and spiritual maturity fully equipped to be overcomers in this world and to be fully devoted followers of Jesus Christ. We do this the same way Jesus did… through discipleship, and connecting our hearts with the heart of God, all to empower a generation to pursue and fulfill the call of God in their lives.
Meet The Youth Leaders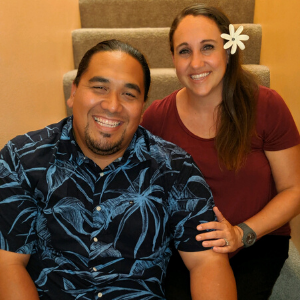 Pastor Kapuni and his wife Alea Tupua are the Word of Truth Church Youth Group leaders. With a passion for raising up this generation of youth, and a heartfelt desire to help guide and direct the next generation to stay close to God. To never forget what God has done for them, and remember the people that helped them achieve their goals in life.
Kapuni and Alea, along with their five children continue to serve and grow at the Word of Truth Church under the guidance and mentorship training of Apostle Rocky and Pastor Bobbie LaRocco. The Tupua family is committed to fulfill the vision, calling, and purpose of the Lord's Team Ministries – Word of Truth Church.
HOW CHECK IN WORKS
Before Service: Your youth can check-in at our Youth facility (located at 50 Puunene Ave. Kahului Hi.) When your youth is checking in, simply approach the front door of the facility. The Youth Pastor will check in your youth and he/she will be escorted into the youth facility. Please note: YOUTH ARE ALLOWED TO CHECK THEMSELVES OUT AFTER SERVICE. FOR SECURITY PURPOSES HOWEVER, WE DO HAVE CHURCH SECURITY MONITORING THE AREA TO ENSURE YOUTH SAFELY RETURN TO THEIR PARENTS, OR VEHICLES.
After Service: After the service is complete, please return to the youth facility front door to pick up your youth. The youth Pastor will release your son/daughter to you. If your son/daughter is driving they will be released on their own.
Questions: If you have any questions please feel free to ask any of the Security personnel or the Youth Pastor at the facility, they will be happy to help you and answer any questions you may have.
Got Questions?
If you have further questions concerning our Word of Truth Youth experience or visiting Word of Truth Church with youth, simply click the button below and get in touch with us!