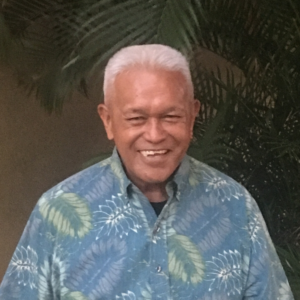 Russell H. Mau
Biography:
Born and raised on the Island of Maui, Hawaii He is a graduate of Moody Bible Institute. Pastor Russell has been serving Christ for 45 years and has been with the Word of Truth Church for over twenty years. Pastor Russell is an Associate Pastor at the Word of Truth Church.
He along with his wife Lydia were married for 47 years and have four children, 1 daughter and 3 sons. He is also the proud grandfather of 10, and has 11 great grandchildren.
On April 5, 2005 his oldest son Russell Jr. went home to be with the Lord at the age of 38 years old. Then on October 12, 2012 his beloved wife of 47 years went home to be with the Lord at the age of 66.
Russell Also Serves As A:
Ministry Board Member

Armor bearer

Leader of the Prison Phone/Video Ministry

Leader of the Kupuna Ministry

Leader Bible Study Ministry (Maui Community Correction Center

Member of Intercessory Prayer Team
Russell's desire and vision is to encourage the Body of Christ, our community, and the inmates he ministers to each week, that each of us can make a difference in our own lives and in the lives of others. For our young people, as well as adults, Pastor Russell believes we should all be the examples and role models God calls us to be. And finally, to raise up leaders wherever you are, all while being a reflection of Jesus Christ.